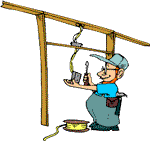 The ability to repair basic house wiring in you home is a skill you can acquire. Knowing how circuits work and what can be done with them is useful knowledge. Wiring in a residential house is not that complicated, but it can be dangerous. Proper understanding and cautions are required.
Some popular pages related to residential wiring are, 'Doorbell Wiring', 'Phone Jack Wiring', 'Installing Electrical Outlets', 'Wiring a Light Switch' and 'Ceiling Fan Repair'.
Most homes in the United States have two hot wires and one neutral coming into them. Supplying a stated 240/120 volts. The actual voltage received is normally slightly less 230/115 volts. This type of power is commonly called single phased power. Most residential homes have this type of basic house wiring.
The power coming into your home is also called alternating current. There are people in the world that can explain what that means exactly, but none of them are writing this article. Alternating current is used to allow electricity to be transported over long distances. Leave it at that, the guys that can explain it will talk in a language you won't understand.
The first power plant using alternating current came on line in Niagara Falls, New York in 1894. Nikola Tesla is credited with the development of a system the would allow power to sent long distances. Thus, making it practical.
We have a 'Special Offer' for our readers, it is a 'tool guide' that lists the 'must have' tools for fixing most of the, common repairs in your home.
The right tools can save you thousands of dollars.
To get your Free 'Tool Guide', all you need to do is sign up for the Home Repair Central Newsletter. Our newsletter offers you special tips and tricks each month. Not to mention other free 'reports' that you can only get when you recieve our newsletter. Sign Up Now!
When you use one hot wire and the neutral you get 115 volt power. Most small electrical devices and lights run on this current. Heavy duty items like ranges, hot water tanks and dryers use both hot wires and the neutral to achieve 230 volts.
You may not want to tear into replacing you electrical service, but doing some basic house wiring may not be out of the question. The first thing you want to do is get a healthy respect for electricity. It is dangerous and can hurt or kill you. Take precautions when working around electricity.
Basic House Wiring Rules
The first rule to remember is that basic house wiring can be dangerous. Never attempt to do it without a good understanding of how it works and safe work practices. This article is intended to provide basic information and is not a comprehensive discussion of all aspects of house wiring. See the article 'Electrical Safety Tips' for more information.
In addition local and national electrical codes apply. You will need to consult your local building department to get information on what is acceptable for basic house wiring in your area.
Basic House Wiring the Safe Way
You never want to work on basic house wiring in your home with the power on. See the article 'Electrical Safety Tips' for more information. Just shutting off a switch is not enough. On the job electricians use lock out tag out procedures to make sure circuits are not inadvertently turned on while they are being worked on. You turned off the switch, so everything is fine right?
It is much safer to turn the circuit off at the panel before working on the device. Someone could accidentally turn on the switch by mistake and an accident ensues. You should additionally tape off the breaker and mark it as being worked on. <strong>Does you teenage son know where the electric panel is? What will he do if his stereo or video game goes off?
WARNING!! Make Sure the Power is OFF Before Working With Electricity!!! WARNING!!!
In addition you need to take it one step further. Have a non contact voltage tester with you and check the box before you mess with it. It is possible for more than one circuit to run through the same box. You may have shut one of them off, but there could still be hot wires in the box. The number of combinations you can find in basic house wiring is staggering. Always double check.
Circuits in panel boxes are sometimes poorly marked. It may take some experimenting to get the right circuit. Take the time and make sure the power is off. Take a look at the article 'Electrical Safety Tips' for a more information on electrical safety.
The 'Next' section discusses 'Basic House Wiring Safety'. Check the 'Home Repair Topics Menu' at the top of the page, if this is not your problem.
A Special Offer and Some Regular Help
We hope this article has helped you with your repair problem. If you haven't signed up for the Home Repair Central Newsletter, now might be a good time.
We have a free gift that we know you will appreciate, not to mention all of the features and exclusive information found in our newsletter. Sign up now to get your 'Essential Tool Guide'