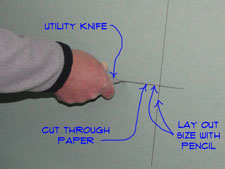 Using a utility knife to cut drywall is the your first choice. The drywall has a paper facing on it, that the utility knife is well suited to cut.
The first thing you will need to do when you cut drywall is to size the piece. A tape measure and utility knife are the tools for this. For a patch where you are fitting into a cut out you want to size the piece 1/8" to 1/4" smaller than the hole you are filling. Get your measurements for the piece first. If you want use that old carpenter rule, measure twice, cut once.
To begin your cut you score the paper on the face side of the drywall. For a piece that is close to four feet wide you want to cut clear across the four foot dimension of the drywall. After you have done that you break the piece back and cut the paper on the back side. Repeat this step to size the piece the other way.
Keeping cuts straight when using a utility knife to cut drywall can be challenging. How do you do it? Great question. There are a couple of ways to do that. You can draw a line on the face layer with a straight edge and a pencil. Then you carefully follow the line with the utility knife. The next option would be to mark the sheet and then use a metal straight edge or a tee square to guide the blade. See the article 'Using a Drywall Tee Square'.
Another very effective method is the one used by professional drywall hangers. You hold the end of the utility knife against the end of the tape measure and hold it in place with your thumb and forefinger. Then you pinch the tape measure at the correct dimension with your other thumb and forefinger. You run you finger along the edge of the drywall and score the board at the same time. You need to keep the tape more or less perpendicular to the side you are measuring from.
This method requires some practice and may not be practical to learn if you only have one or two pieces to cut. Want to try it? Use some scrap pieces to develop your skills.
When you are cutting a small piece out of a larger sheet you will need to use the keyhole saw (discussed below). Cut the drywall with the keyhole saw in one direction and score it and break it in the other one.
---
The 'Next' section discusses 'Using a Drywall Keyhole Saw'. The 'Previous' section covers 'Types of Drywall'.
Last Updated on February 24, 2013