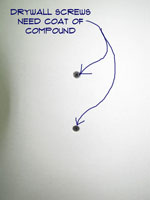 Taping screws and nails is a necessary part of a drywall taping job. This is the easiest thing to do when taping mudding drywall. Screws leave a deep depression in the drywall. For this activity, you want to use mud that is a little stiffer. Thin mud will shrink too much when coating
Always put three coats of mud on them. Fill the screw or nail with mud and drag the knife across it, keeping it tight to the surface of the wall. When done, you will sand the surface flush with the wall. You should not leave a build up of mud around the screw head.
If a screw is too high, get a drill and run it in until the head is below the surface of the wall. Do not try to build up mud around the screw head. This will leave an ugly blotch on your wall. Nails can be knocked in with a hammer or the handle of your drywall knife.
That's all there is to taping drywall screws and nails. Not that hard.
---
The 'Next' section discusses 'Installing Drywall Tape '. The 'Previous' section talks about 'Mixing Drywall Compound'.