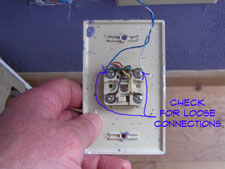 Troubleshooting phone jacks will often involve loose or broken wires. Assuming your phone service is working at other jacks in the home you would want to check the connections. You saw how thin that wire is, yes it can break.
Take the cover plate off and check the wires. Are they loose? Do they appear to be broken? Try redoing the connections, possibly cutting a little off of the wire and stripping them again. A break is likely to occur right at the connection lug. Hook them back up and see if the phone jack works.
Phone jack wiring will usually be connected together on the back of each jack. Check other nearby jacks to see if there are any loose or broken wires that could be feeding the problem jack. Unless you have been doing some remodeling, it is unlikely that the wire in the wall had gotten damaged. Not impossible, just unlikely.
Are all your jacks working now? Great, you have successfully dealt with some phone jack wiring issues. How to you feel? I thought so, proud.
---
The 'Next' section is a 'Summary' for this series on 'Phone Jack Wiring'. The 'Previous' section covers 'Wiring a Telephone Jack'.