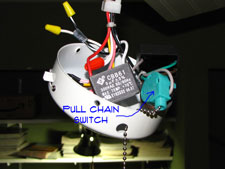 Most fans have a pull chain to control the fan and one to control the light.
Do you have a different problem? See 'Electrical Repair' for a complete listing of all electrical topics.
You may have individual switches for your fan and light and have a speed control at the switch. Good for you. Many fans are controlled with pull chains. Three speeds for the fan and one click to turn the light on and off.
The pull chain switches can go bad or freeze up. Is the fan stuck on one speed? As a rule they are wired permanently into the fan.
They can be replaced by splicing the wires inside the housing. Obtain a new switch and loosen the retaining nut. Make sure the power is off and cut the wires to the switch.
Splice the wires together with wire nuts and put the switch back into the housing. Turn the power back on and give it a try. The fan or light works, great you are done with your ceiling fan troubleshooting.