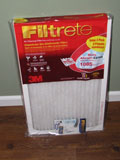 Furnace filters come in a lot of shapes and sizes. Determining the furnace filter size is the first step in purchasing a new filter.
The quickest way to find the size of your filter is to get it off of the old one. There are a few places your filter could be located.
Up Flow Furnaces
This type is probably the most common. An up flow furnace as the name implies pushes the warm air up. The filter will be located at the return air portion of the furnace which will be at the bottom. It can be inside of the furnace below the blower or on the side, between the cold air return and the furnace.
Down Flow Furnaces
On a down flow furnace the cold air comes in from the top. The Filter will be above the blower. This type is often an inverted vee that requires two filters.
Horizontal Furnaces
This style is usually located in a crawl space or an attic. The filter will be on one side or the other, again at the return air side. It will likely be the style that slided in to the duct work. There should be a removable cover.
Finding the Size
Furnace filters are sized by width, length and thickness. The size on the filter is usually expressed in inches (example: 16"x20"x1"). A filter that is the wrong size will typically not fit, or may not stay in place, once installed.
The owner's manual for your furnace should tell you what size you need. Don't have your owner's manual? You can try searching online if you know the model number of your furnace. Try Manuals Online to see if you can get a copy of your owner's manual. Or try the manufacturer's website for the furnace that you have.
A low tech method would be to measure the filter that you have in your furnace now. Take out the old filter and measure it. Width, length and thickness, write them down and you're all set.