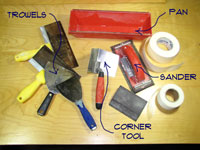 Drywall taping tools include pans, knives and sanding heads. Drywall knives come in a lot of sizes. Unfortunately, you need at least a few of them to be able to do a taping job. A 4", 6", 8" and 10" will take care of the majority of the situations you encounter.
For a one time repair, there are plastic knives that will do a passable job. Remember they are plastic and will break easily. A plastic drywall pan is quite useful. They're not that expensive. A bread pan will work in a pinch. Don't buy a sanding pole unless you have a lot of repairs to do.
If you only want to buy one decent knife, make it a 6". I would venture to say that I do about 65% of my drywall repair work with a six inch knife. Of course I must admit that the other thirty five percent comes up regularly and having multiple knives is important.
You can equip yourself with a basic set of drywall taping tools (shown in the picture), for less than a hundred dollars. They will last for years. You'll be all set for your next taping mudding drywall experience.