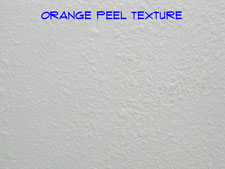 Orange peel drywall texture looks like, well you guessed it, an orange peel. The drywall compound form light bumps on the surface that looks similar to an orange peel.
For related information, see the articles 'How To Repair Drywall Texture', 'Patching Drywall' and 'How To Fix Drywall'.
This type of texture is also done using spray equipment. Homeowners will probably not have the equipment or the expertise to perform this type of operation themselves.
For a patching project you still have options. There are aerosol products available for patching this type of texture. A can runs around fifteen dollars and will cover about six square feet, depending on the density of the bead pattern.
Obtain a can and make your repair following the instructions on the can. This will be the same as other texturing repair projects, you will need to experiment. Be careful though, this material is expensive and does not go very far. Texturing drywall can be that easy.