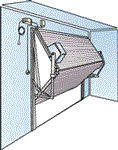 What can cause you to have garage door opener problems? Your garage door opener is both an electrical and mechanical device. It has moving parts that can break or need lubrication.
There are (1) Steps in this series. (1) 'Checking Garage Door Sensors', a safety feature on all newer door openers. (2) 'Fixing Your Garage Door Remote' covers issues with the remote. (3) 'Adjusting the Limit Switches', making sure the door closes all the way. (4) 'Door Closing Issues' and (5) 'Replacing a Garage Door Opener' are the last two topics.
Factor in the electrical and safety features and you can have a choice of problems. Can you fix them? Most of the time the answer is yes. Will it be hard? Well,,, sometimes.
Your garage door opener cannot lift the door without the springs. If a spring is broken you have a different problem. There are many things that can go wrong that are not difficult to fix. A few simple tools and a little patience and you are all set.
The information that follows will give you the insight you need or the resources to deal with your garage door opener. Use the evaluation section to determine if you want to tackle this problem.
Garage Door Opener Problems - Information
For something simple it will probably cost you a service call, around $50 to $75. A new garage door opener will cost from $250 to $400, installed. You may get sold on a new unit if someone comes out. Maybe not, but it happens. If it is something you can fix the savings could be from $50 to $400. Not bad if it only takes ten minutes.
A lot of the repairs are easy to perform. Replacing parts or the entire unit can be more work. The difficulty level for garage door opener problems will vary with the issue.
These repairs will have a Difficulty Range of: Easy to A Bit of Work
These repairs require a Skill Level Range of: Total Novice to Handyman
Make sure the unit has power. Check the GFCI and the Circuit Breaker. Check the safety sensor. Nothing can be in front of it and it must be aligned with the other one. There should be indicator lights that tell you it is working. A blinking light usually means something is wrong. Check the batteries on your remote control.
Assuming that nothing else is broken and the door is working, the worst thing that could happen is that you will have to lift and lower the door yourself. Locating parts could take a little time and you will get some exercise.
Troubleshooting Garage Door Openers
A common problem with garage doors is the safety sensors. They are required since 1993. The article 'Adjusting Garage Door Safety Sensors', explains what can go wrong and what to do about it.
When the weather is bad, opening your garage door from the car is a great feature. 'Garage Door Remotes' can quit working or not work properly. This article addresses the issues and solutions.
A garage door opener uses limit switches to control the travel of the door. Switches that are out of adjustment may not allow the door to close properly. The article 'Adjusting Garage Door Limit Switches' explains the problems and how to solve them.
When the door does not open or close properly, it could signal some adjustments that are needed. The article 'Garage Door Opening and Closing Problems' discusses this subject.
As a last resort, you may need to consider 'Replacing a Garage Door Opener'. They are a good idea when you have an older door opener the lacks newer safety features.
>
Summary
Garage door opener problems are a plague of our modern society. In years gone by, it was not that common to have a garage door opener. Now it is uncommon not to have one. It is not the end of the world if you have to lift the door manually, but it is an inconvenience. Did you find out that they don't sell parts for your opener?
Hopefully you have been able to find a solution to your garage door opener problems. This article gave you some instructions and told you what information you needed to obtain. This should have helped you to address your repair issues.