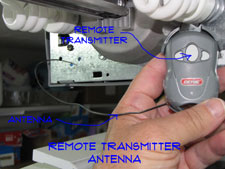 When the 'Garage Door Remote' is not working it can be an inconvenience. Opening the door from inside of your vehicle is one of the key reasons for having a garage door operator.
Not your problem? See 'Garage Door Opener Problems' and 'Overhead Garage Door Repair' for all the garage door topics.
Checking the Batteries
Does the door work fine with the button on the wall and won't work with the remote? First check the batteries for the garage door remote. Replace them and see if this solves the problem.
With a new battery the signal should be strong. If it still is not getting the signal try moving the antenna or using it from a different position in the car. Does it work now? If yes, you have solved your problem.
Programming a Garage Door Remote
No. Try reprogramming the garage door remote. You will need your owner's manual for instructions on your particular garage door opener. Can't find the manual? Bummer. You can probably go to the manufacturers website to get one.
You will need the make and model number. Or try Manuals Online, they may have a copy that you can download. Still not working, you can get a new remote. Get one the works with your opener.
You will not find much support for a door opener that was manufactured prior to 1993. They are considered dangerous, since they do not have newer safety features. Parts and support are no longer provided. You may need to consider 'Replacing a Garage Door Opener' if your unit is older.
Garage Door Opens Unexpectedly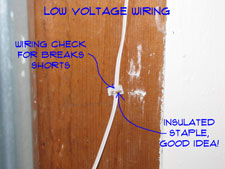 hen a garage door opens unexpectedly, it can be a little baffling. Three reasons that this would happen.
First there could be a short in the wiring going to the wall control. Check the wiring and look for cuts in the insulation. Replace the wiring if you find any shorts.
The second would be if you lost your remote or it was stolen. It could be that your garage door opens unexpectedly because someone else is opening it, like some kids in the neighborhood. Do you hear giggling after it opens?.
>
A less likely scenario is that someone else within range has the same frequency. If the wiring is good try erasing all the codes for the transmitters and reprogram the codes. You will need your manual for instructions on doing this. Can't find it? Go to the manufacturers website or try the link for 'Manuals Online'.Follow the instructions for your unit to program the remote.
The third possibility is a sticking button on the wall control. Check and make sure they are working freely. If it is sticking you may want to consider replacing it. They are inexpensive at a home supply store. There are only two low voltage wires connected to it.